2016 Week 1 Victories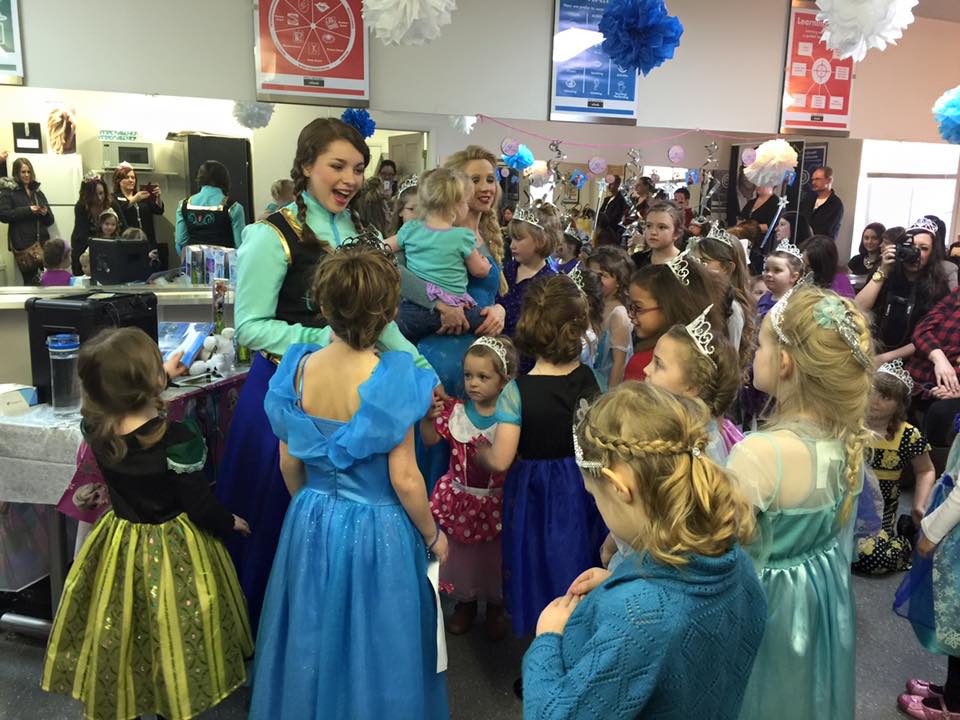 Hi Everyone!

Many of you called and emailed to say that last week's launch parties were absolutely AMAZING! All across America, thousands of Future Professionals and staff members watched the 2016 launch video and heard special messages from our fabulous partners about this year's sponsored organizations.

The launch video and a super-fun launch "sizzle reel" are now available on our Paul Mitchell Schools YouTube channel. Please replay and share them with your social networks: bit.ly/1Lej1t7

Even more exciting, many of you wrote in about your wonderful FUNraisers, ONE Events, and First 100 winners. We're off to an exciting start and I'm so proud of you! Included in this email are some amazing victories, so keep reading till the end.

First 100 Contest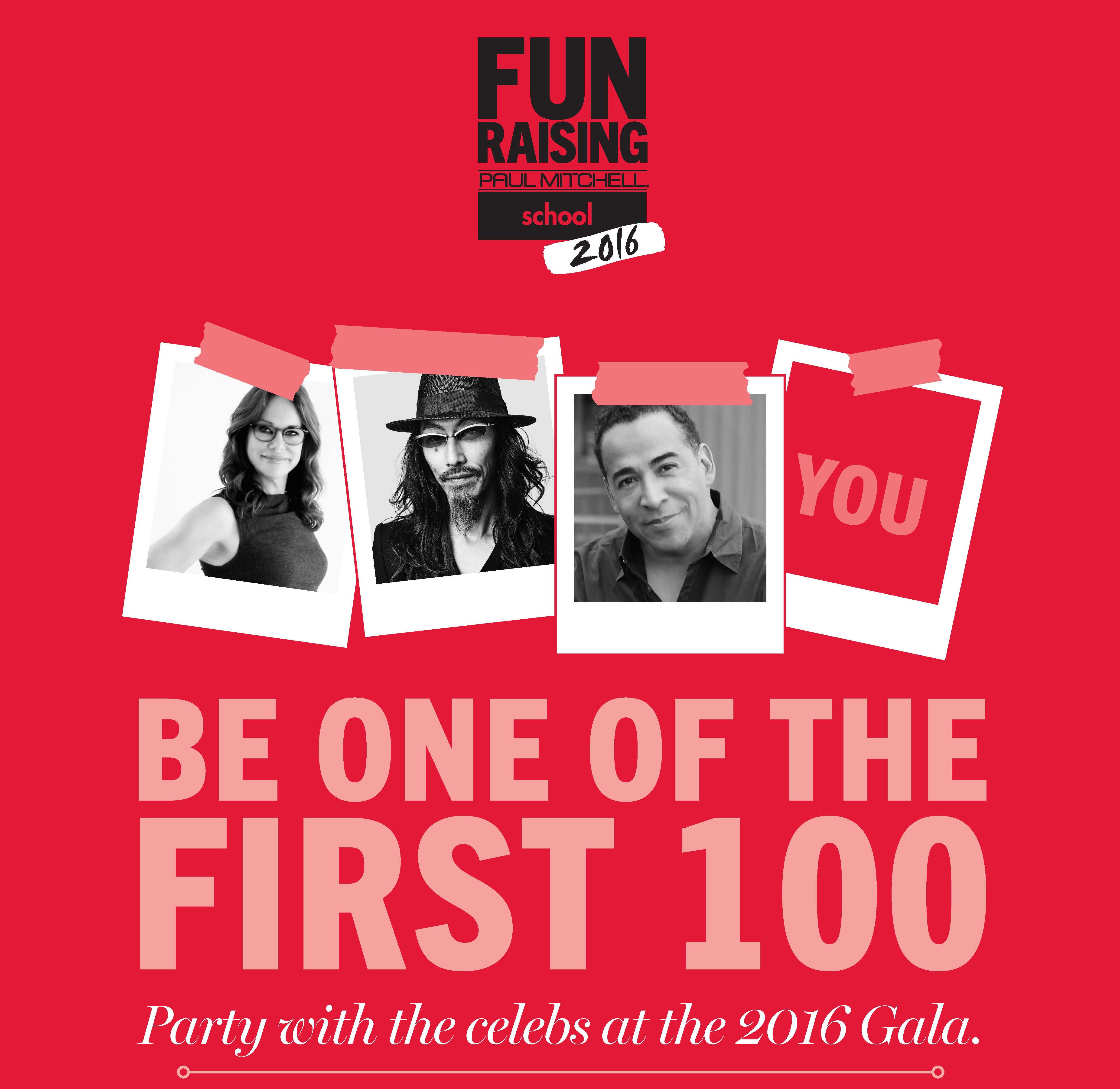 E-mails have already started pouring in with your victories, proving that the biggest key to success is simply getting started! Many of you have already raised tens of thousands of dollars, and I know this will be our best year yet! Drum roll, please …
We have 37 confirmed winners in the First 100 contest!
37 x $3,000 = $111,000!
That leaves 63 spots – spread the word!
Remember, the First 100 qualifiers will attend the FUNraising Gala plus a special day of hands-on education with Ruth Roche, Tim Storey, and Takashi Kitamura.

ONE Events

Many schools held ONE events (ONE Hour, $1,000) during their launch parties, with AMAZING results:
Paul Mitchell The School Las Vegas raised $13,702.
Paul Mitchell The School Temecula – $6,077
Paul Mitchell The School Austin – $3,402
Paul Mitchell The School Murfreesboro – $3,201
Paul Mitchell The School Escanaba – $1,350
HOW THEY DID IT: Paul Mitchell The School Las Vegas combined their launch party and ONE event for an amazing kickoff, raising over $13,000 between day and night school. A few days before the launch, they held a "top secret" meeting with Student Council and Be Nice Team members to make their thermometer and FUNraising wall, which showcases all of their upcoming events. On launch party day, they decorated the room with FUNraising posters and prepared ONE Event packets for each student (charity blurbs, tax ID numbers, donation forms, etc.). After watching the launch video and hearing from special guests, the ONE Event began. Along with snacks and a friendly competition among teams, Future Professionals received a raffle ticket for every $10 they raised; the drawing included prizes ranging from a $10 gift card to a makeup class with Debra Dietrich! The table that raised the most money together went lunch or dinner at PF Chang's immediately after the ONE Event.
More Week 1 Victories
Paul Mitchell The School Escanaba has already raised $12,820, including $1,910 from their Frozen Princess Party. Sixty excited little girls had mini makeovers and spent an hour singing, dancing, playing games, and taking pictures with Anna and Elsa inside the custom-made castle!
Paul Mitchell The School Temecula's FUNraising launch included the Todd family, who talked about their experience with Children's Hospital LA. They also held a ONE event, raising over $6,000. They're off to a great start.
Our Utah Corporate Offices got off to a great start with some very unique FUNraisers, including a contest to "Guess the Sex" of Tina Benson's new baby, and a delicious kickoff breakfast. Their goal is $2,000 this year, and their strategy is "every penny counts!"
Paul Mitchell The School Huntsville welcomed Thirst Project Road Warriors a few days before their kickoff, and their launch party guest speaker was a survivor of sex trafficking. Fran Drescher did a Face Time call with Paul Mitchell The School Jacksonville, and Eden Sassoon joined Paul Mitchell The School Santa Barbara for a red carpet FUNraiser. Our charity partners are happy to help in so many ways. Be sure to tap into these valuable resources!

Tip of the Week: ONE Event – "ONE Hour, $1,000!"

Many schools raised as much as $3,000, $6,000, and even $13,000 in just ONE hour with ONE Events. PLEASE do this right away — it works, it's fun, and you can easily schedule it without much notice.

Although each school takes a slightly different approach, the idea is to set aside ONE HOUR when everyone in your school gets together to call, text, and Facebook their family, friends, guests, vendors, and everyone in their address book to ask for donations to the FUNraising campaign. Visit the Hub (FUNraising tab, FUNraising Files folder) to download helpful ONE Event forms, including a sample lesson plan, e-blasts, success tips, and credit card donation form. Filenames begin with "1 HR."

FUNraising Materials on the Hub, Box.com, and Plugged In

All of our 2016 FUNraising materials are on the Hub and Box.com, and some are also on Plugged In. Please use them to let your local media know about our celebrity partners, the incredible industry icons who have volunteered as our "grand prizes," and your school's upcoming FUNraisers. Please check back often – new materials may be added as they become available.
On the Hub > FUNraising tab > FUNraising Files
On Box.com: bit.ly/1LRTlgT
Materials for Future Professionals are on Plugged In, under the Giving Back tab / FUNraising Campaign.
Send In Your Victories!

Each week, we'll share more great victories and FUNraising tips with the entire Paul Mitchell School network! We also have a photo album on the Paul Mitchell Schools Facebook page. Help us spread the word by sharing the link on your social networking sites!

Please send your updates and ideas to Liz VanScoy at This email address is being protected from spambots. You need JavaScript enabled to view it.. I can't wait to share your victories!!

XOXO, Winn Claybaugh
Dean and Cofounder of Paul Mitchell Schools